John Deere Classic at TPC Deere Run is the largest sporting event in the Quad Cities. It is held annually since 1971 and is an official PGA tour event. Professional golfers from around the world visit the Quad Cities for top golf. Hundreds of volunteers help out for successful completion of the event and the golfing event also sponsors the Birdies for Charity fundraising.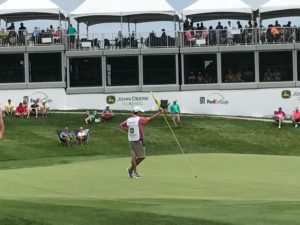 TPC Deere Run in Silvis, IL is a top golf course in the area to host the annual John Deere Classic. The premium event is a summer special which hosts professional golfers from around the world. The sporting event is a huge boost for local economy.
Hundreds of volunteers help organize the event. Local city leaders, school groups, employees of John Deere Manufacturing company, charities, and so on get together for this event. Birdies for Charity is one of the largest fundraising event that supports local charities during the John Deere Classic.
The prize money for the winner this year is $1 million. Some of the recent past winners include Steve Stricker, Jordan Spieth, Zach Johnson, Ryan Moore, Brian Harman, and so on.
John Deere Classic is excited to host several local golfers who have roots back in the Quad Cities area. Organizations can sponsor the event by advance registration. Volunteer opportunities exist for different committees. Advance signup is recommended for volunteering. Volunteers can win special prizes and event freebies.
Birdies for charities is a fund raising for charities who meet certain specifications. Matching amount can be won from the earnings of the event. Official food vendors are assigned every year for concessions.
Spectators are expected to follow certain guidelines during the event. Sharp knifes and firearms are prohibited at the event. Having a course map handy is essential. Following a group or staying in your stand are two methods of watching the tournament. Autographs can be sought out at a pre-approved time early in the week. Security guards are present at the gates to maintain the safety. Emergency medical services are planned for any situations.
John Deere Classic allows some special provisions in some years and some years end up with a tie. Regardless of the outcome, the entire event is planned, organized, and implemented with top standards. The golf event is a festival time for Quad Cities and is a must see.