Instructional Design is a systematic process in which learning needs are analysed and coursework is developed using range of multimedia tools. eLearning has revolutionized the way people learn. The Instructional Design has enhanced eLearning using adult learning theory and principles.
Instructional Design
Instructional design (ID) and Instructional System Design are often used synonymous but the latter is more broad in nature. ID enhances the learning and creates a framework for engaging the learner. Use of technology facilitates the learning process and metrics. Different ID models and strategies are widely used.
ADDIE Model
ADDIE Model is the core of ID and is widely used by instructional designers and  developers.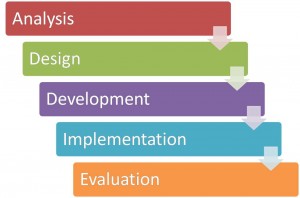 The five basic steps of ADDIE Model are:
Analysis: Analyze learners and goals
Design: Identify learning objectives, outcomes, Subject Matter Experts, and assessments
Development: Develop instructional strategies and plan logistics of how the learning will be delivered
Implementation: Implement the training and test the learners
Evaluation: Formative and summative evaluation of the training and learner feedback
Gagne's Nine Events of Instruction
Robert Gagne, a popular contributor to ID identified nine events of instruction that assist in learning. Story boarding of a lesson usually follows these nine events to accomplish the learning objective. The ID must take care that learning takes place  in that order in each storyboard.
Gain attention
Inform learner of objectives
Stimulate recall of prior learning
Present stimulus material
Provide learner guidance
Elicit performance
Provide feedback
Assess performance
Enhance retention transfer
Bloom's Taxonomy
Benjamin Bloom, an educational psychologist proposed three learning domains: Knowledge, Skills, and Attitudes.   After a lesson, the learner must be able to acquire knowledge, gain a skill, or change in attitude. Based on the proposal, Bloom's taxonomy was developed.
The Cognitive domain is in turn divided in to six categories. They are:
Knowledge
Comprehension
Application
Analysis
Synthesis
Evaluation
For each category, the learning goals have been changed in to verbs. Later, the techniques have been identified to achieve the activity. In Instructional design, Bloom's taxonomy verbs have been used to create the learning objectives so they can be measured. Further, each learning objective may have only one learning goal (Bloom's verb).
 eLearning and Instructional Design
eLearning has revolutionized how students learn. Adults in particular can pace the learning according to their time and schedule. The class room learning has been replaced by eLearning in many corporations around the world. Security training, induction training, skills training, and so on have been possible for millions of people through eLearning.
Applying Instructional Design principles in eLearning has improvised the learning. The tools and style guides have made the eLearning a pleasure experience rather than mundane text. eLearning and ID have made sure that the learning content is rich with graphics, audio, video, feedback and even simulations. The Level of the eLearning varies with cost and the interactivity involved. Some of the Instructional Design models have also been blended learning where the eLearning is associated with certain level of classroom learning to ensure human interaction.
There are also repositories, forums, and discussion rooms in the Learning Management Systems to add more interaction with the remote learners. Also, the ID faces a challenge of making the eLearning SCORM compliant. Sharable Content Object Reference Model (SCORM) is a collection of standards and specifications for eLearning. Further, the ID also has to ensure that they must not actually remove the content in order to make the screen text concise.
Instructional Design Outputs
In every phase of the ADDIE, there are certain expectations from the ID. These include Project plans, Learner Analysis, Technology Analysis, Table of Contents, Illustrations, Animations, Graphics, Learning Matrix, Schedules, Curriculum, Assessments, Glossary, User guides, How-tos, and so on. Also, there are documents pertaining to the implementation and evaluation which must be prepared and communicated to the customer.
Tools used in ID are Microsoft Office products, Captivate, Articulate, Blackboard, Moodle, HTML, Photoshop, Dreamweaver, Lectora, audio and video editing, and finally testing the final product. Quality checking the storyboards and design is an essential part of Instruction Design. Project management is an essential part of Instructional Design.
Basically, I think Instructional Design is interesting because it involves a lot of learning in terms of content and technology which keeps you engaged while you are delivering quality eLearning to users.