The Butterworth Center and Deere Wiman house at 817, 11th Avenue and 1105-8th Street, Moline is a must visit for Quad city residents to explore the history of the place. They were originally owned by the John Deere family but currently serve the community for architectural and historical education.
Deere-Wiman House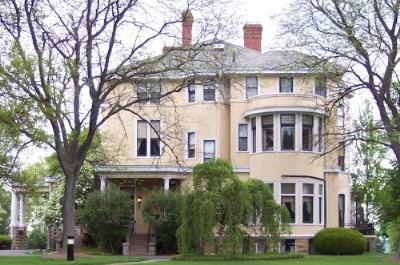 The Deere-Wiman house was built by the great John Deere for his youngest son Charles. It was designed by Chicago architect William Le Baron Jenny and the John Deere descendants lived there from 1872 to 1976. The house was renovated and currently offers a unique opportunity to compare the life style of then and now. 🙂
The house has Blue room, Rose room, Green room with rich upholstery, furniture and architecture. The dining hall has big paintings and tea pots. The paintings throughout the house are extraordinary and may take hours to enjoy. The piano hall, guest rooms, library and music room show case the original and renovated architecture.
Butterworth Center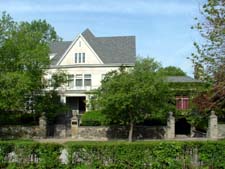 The Butterworth Center, originally called as 'Hillcrest', was built in 1892 as a wedding gift for Katherine Deere and William Butterworth from her parents Charles and Mary Deere. Mrs. Butterworth was the grand daughter of John Deere. She was the first president of Deere and Company. She invented the steel plow in 1837.
The Center features rich architecure and paintings. The roof painting in the library is a master piece. The bi-level living room features a music room with grand piano and pipe organ of 26 ranks. These are the one of the foremost residential installations in the Midwest. The house was dedicated for community after the death of Mrs. Butterworth.
Community Service
The Center offer guided tours for school children. Several workshops, tours, summer camps, field trips for teachers and children are conducted every year. The Butterworth trust offers scholarships to outstanding students in the Moline School District. The center conducts different competitions where students can participate and show case their talent.
I liked the Blossoms on the Butterworth event today and enjoyed the tour apart from some free goodies. 🙂 The tent by the WQPT, the free picture, the 1800s games, and balloons were top attractions. The garden tour was pleasant and good for walking! The shows included juggling, Niabi Zoo show, youth bands among others. The car antique display was amazing to watch including the car that featured in Johnny Depp starred movie, 'Public Enemies'. 🙂
You can reach them on (309) 743-2700 to schedule a guided tour or check the event calendar for a visit.